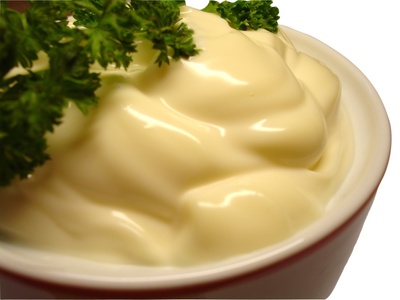 Hye kawan-kawan, info sihat hari ni aku nak share mengenai mayonnaise. Tidakkah anda tahu mayonnaise sebenarnya bukan salah satu makanan yang menyihatkan.? Semalam aku menonton TVIQ di astro dan ada slot cara-cara membuat mayonnaise. Memang simple nak buat tapi yang mengejutkan aku ialah kandungan minyak yang dicampurkan bersama telur. Banyaknya.!!
Setelah membuat kajian (ceh, kajian lah sangat kan.?) di google, aku pun baca banyak yang mengatakan makanan seperti burger, sandwich tidak menyihatkan jika tidak memilih mayonnaise yang rendah lemak. So, kepada kawan-kawan bijaklah memilih pemakanan anda untuk kekal sihat ok.
Haaa, aku rasa lagi elok jika kita buat sendiri mayonnaise. Sekurang-kurangnya kita boleh kurangkan penggunaan minyak. Di sini aku jumpa resepi membuat mayonaise tanpa menggunakan minyak. Pssst, ni bukan resepi aku tau. Aku google je ni sebab tu 'oh my english'. Hehehehe. Selamat mencuba.
Ingredients:
2 Tablespoons sugar
1 Teaspoon salt
2 Teaspoons plain flour
1 Dessertspoon mustard
1 egg
1 cup water
1/3 cup vinegar
1 Dessertspoon butter
Method:
In a saucepan, mix all dry ingredients.
Add beaten egg, water, vinegar and butter.
Stir until mixture boils.
Cool, bottle and refrigerate.